We had all sorts of events over the Christmas season.
It started in the end of November with a visit by the children of year 2 from Cecil Gowing – lots of fun, games, crafts, songs and the Christmas story
On the evening of the 1st of December we hosted the Combined Sprowston Churches Advent service.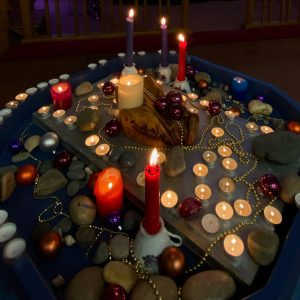 We had a Messy Church Christingle – see separate post for pictures.
We had a traditional carol service, led by members of the church.
We had an outdoor informal carol service round a firepit in the church garden with hot chocolate, toasted marshmallows and other festive treats.
A late night Christmas Eve service to welcome the birth of our Saviour and a fun family Christmas morning service.
Wow – what a lot we did!