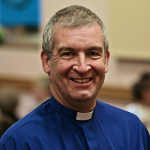 Born into a caring family with a strong Christian influence, my early years (in the make-do-and-mend era) were happy, and I was encouraged to achieve.
Wanting to design vehicles, I found myself on a 4-year degree course in engineering. Once qualified, I began working for a large multinational motor manufacturer and, for five years, found myself in a downward spiral of increasing frustration.
I was open to other influences and yet my life really became dull. Life was busy but empty, and I was mixed up and in a mess. If the world didn't stop to let me off, I didn't know what I'd do. Deep inside, I desperately wanted a new start in life. I knew I could cry out to God. But would God hear me or help me? Eventually, I dared to go to a church and, strangely, felt so messy and separate from God. Even if He had anything for me, I was sure I couldn't qualify, as I'd really messed up.
Now I know that other folk were praying for me as well… In 1978, I was offered a job as Design Engineer with sole responsibility for the company's road tankers (a new career). I also met the person who was to become my first wife, and we were married the following year (a whole new life). Then, just as I thought I was getting it all together, I had glandular fever and contracted hepatitis, and my kidneys were on the way out… I lost a day and a half of consciousness.
A prolonged period of recovery gave me time to ask some deep questions about life. In March 1979, several other important things happened.
One particular evening, I was powerfully aware of the presence of Jesus (though I didn't know Him personally) in the room, and He spoke, to call me to be a preacher. I was stunned. The following Sunday I returned to church, and was clearly prompted to surrender my life to Jesus. As I did so, there was an immediate release from that sense of mess, and such a joy inside that I ran into the street to tell people what Jesus could do… Life had certainly taken on a new direction.
Settling into a new home near some new friends, and about 20 miles from my new job, with terrific career prospects, I was thrilled. But the Lord had planned to give more. Just three weeks after that earlier event, I was at our church, wanting to be sure of things. Before the meeting finished, I found myself shaking heavily in the Lord's presence, weeping for all my mess (even the smallest things). Within seconds I found myself kneeling – while a Preacher came alongside, laid hands on me, and prayed – really prayed.
The Lord's Spirit was upon me.
After that, the call to preach grew stronger, and I was guided to offer for training for ordained ministry. Over the years our family of 4 children grew. There were challenges of ministry in new situations. Life has never been dull or empty since. Jesus was with us when my first wife, Stevi, lived and died with cancer. When facing trials, Jesus gave fresh strength.
Beginning again, and discovering fresh challenges here, Jesus has been near. In times of testing and change, Jesus is near. In the whole of life, Jesus is always nearby, and life is full. He's only a prayer away. For now, it's my privilege to minister here in Norwich, and to offer Christ Jesus as Saviour.
Jesus gives new life!
What a delight it is to know Him and to serve Him!
Update
In August of 2017 Nigel retired from full time ministry in the Methodist Church. He is still living in the Norwich area and enjoying having more time to spend with his family. While Nigel is no longer an active minister within the Methodist Church, God doesn't 'do' retirement so Nigel is exploring other avenues of mission and ministry.