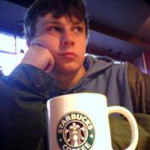 Where am I from – I moved to Norwich from Luton, home of the best team in the world, Luton Town F.C.
How Did I Become Christian? I was brought up in a Christian home and went to church from an early age. When I was about 12 I started to wonder if this whole God thing was true or whether I had been brainwashed into it. I decided that it wasn't for me and I went and did my own thing.
During this time I tried to fill my life with things like alcohol and looking for a girlfriend (with no success). I grew increasingly unhappy and struggled to see anything worth living for. School was awful, no girl in my life it was a never ending spiral. Sometimes my mates and I would go onto the streets and look for fights, just anything to forget who I was and to numb the pain. I even thought of getting into the whole football hooligan scene (luckily I didn't).
Life was getting increasingly miserable and desperate mixed with the anger inside me from school, I was a wreck.
All this time I continued to go to church (just to keep my parents happy) on April 1st 2001 a friend of mine invited me to a church in St Albans. At this church the music was fantastic and they spoke about the Holy Spirit. Now I didn't know what it was but they asked if anyone would like to receive the Holy Spirit. I went forward and someone prayed for me. Almost immediately I felt this amazing joy, peace, passion; just so many emotions colliding and exploding together inside me. I can't really describe it better than that, I'll give an example of how it made me feel.
We went to MacDonald's afterwards to get some "lard burgers". I HATE garage music with a passion (sorry if you like it), and it was there middle of MacDonald's with people looking at me, I started dancing to Garage music. Ever since that day I have tried to follow God and get his help through the "Holy Spirit" (God's way of working in the world) to live the best life I can. I have changed so much in the 5 or so years I have been a Christian, I am a totally different person from who I used to be.
Update, 2017
Paul is the new director for North Breckland Youth for Christ.
"I have been working as a youth worker for over 12 years with most of that being at Norwich Youth For Christ. I'm from a 'little town' called Luton and a passionate Luton Town F.C. fan. I have a beautiful wife and two wonderful daughters which keeps me busy most of the time. When I'm not with them or watching the mighty Hatters you can usually see me out and about on my motorcycle. I'm really looking forward to seeing what God will do in this new chapter at North Breckland Youth For Christ and I look forward to journeying together with him into the future."